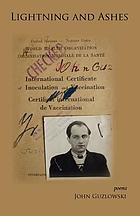 Guzlowski, John. Lightning and Ashes. S.l.: Steel Toe Books, 2007. Print. PS3557.U97 L36 2007
Guzlowski, John Z. Third Winter of War: Buchenwald : Poems. Georgetown, Ky: Finishing Line Press, 2007. Print. PS3557.U97 T55 2007
Born in a refugee camp after World War II, John Guzlowski came with his family to the United States as a Displaced Person in 1951. His parents had been Polish slave laborers in Nazi Germany. Growing up in the immigrant and refugee neighborhoods around Humboldt Park in Chicago, he met hardware store clerks with Auschwitz tattoos on their wrists, Polish cavalry officers who still mourned for their dead comrades and women who had walked from Siberia to Iran to escape the Russians. His poetry, fiction, and essays try to remember them and their voices.

His poems also remember his parents, who survived their slave labor experiences in Nazi Germany. A number of these poems appear in his books Language of Mules, Lightning and Ashes (Steel Toe Books), and Third Winter of War: Buchenwald (Finishing Line Press).

Nobel Laureate Czeslaw Milosz, reviewingthe Polish translation of Language of Mules, for the journal Tygodnik Powszechny, said, "This volume astonished me."

Guzlowski has done presentations about his parents and their experiences at Yale, Western Kentucky University, Lublin Univesity, the Polish Consulates in Washington, DC, and New York City, The Polish Museum of America, The Polish Mission at Orchard Lake, Michigan, Georgetown Univ., the American Univ., and various other universities and colleges here and abroad.

A video of his presentation at St. Francis College is available at: http://www.youtube.com/watch?v=QWmcyuOUfKg

His awards include PAHA's Creative Arts Award, American Council for Polish Culture's Cultural Achievement Award, and the Illinois Arts Council's $7500 Award for Poetry. He has also been short-listed for the Bakeless Award and Eric Hoeffer Award, and nominated for the Pulitzer Prize and four Pushcart Prizes.

Guzlowski's poems and stories have appeared in such national journals as Ontario Review, Chattahoochee Review, Atlanta Review, Nimrod, Crab Orchard Review, Marge, Poetry East, Vocabula Review and in the anthology Blood to Remember: American Poets on the Holocaust. He was the featured poet in the 2007 edition of Spoon River Poetry Review. Garrison Keillor read Guzlowski's poem "What My Father Believed" on his program, The Writers Almanac.

Dr. Guzlowski's critical essays on contemporary American, Polish, and Jewish authors can be the found in such journals as Modern Fiction Studies, Polish Review, Shofar, Polish American Studies, Critique: Studies in Contemporary Fiction, and Studies in Jewish American Literature.

A Professor Emeritus at Eastern Illinois University, John Guzlowski currently lives in Danville, Virginia, where he recently completed a novel about the German soldiers who murdered his mother's family during the Second World War.
Coffee Talk Schedule, Spring 2014
Click here for an Administrative Map of Kazakhstan from the Nations Online Project.
Thursday, Apr 3, 2014: John Guzlowski, Poet, Professor Emeritus at Eastern Illinois University (4:00 P.M.)

Dr. Guzlowski's poetry, fiction and essays recall the the voices of his parents and other residents of Nazi-occupied Poland.

Thursday, Apr 24, 2014: Dr. Sholpan Gaisina (4:00 P.M.)

Visiting Fulbright Scholar, Sholpan Gaisina, Ph.D. will address small farming in Kazakhstan with some comparison with the US situation.
Thursday, Jul 25, 2013: History United (3:00 P.M.)

Danville Regional Foundation History Interns, Amelia Grabowski, Katherine Bennett, and Evelyn Riley will discuss their research on History United, a multi-faceted approach to telling a diverse and inclusive history of the Dan River Region.

Wednesday, Aug 14, 2013: Discovering Scholarly Sources in WorldCat (3:00 P.M.)

Librarians will introduce a comprehensive discovery tool: WorldCat Local, combining books, e-books, articles, and media in one search, with scoping for peer reviewed content.

Thursday, Sep 26, 2013: Mapping Local Knowledge: Danville, Va., 1963 (11:15 A.M.)

Journalist Emma Edmunds will address the 1963 Danville civil rights movement -- the focus of her new exhibit, created with photographer, Tom Cogill. Participants are invited to share documents and experiences. Exhibit dates are Aug 18 - Nov 15.

Monday, Sep 30, 2013: Woodrow Wilson Fellow (1:50 P.M.)

Join us for a discussion with Mike Markovits, leadership consultant and partner in AchieveMission, a non-profit service supporting other non-profit organizations.

Thursday, Oct 24, 2013: Dr. Sholpan Gaisina (11:15 A.M.)

Visiting Fulbright Scholar, Sholpan Gaisina, Ph.D. will relate experiences of her family in Kazakhstan (a former Soviet republic) under Joseph Stalin.
About Library Coffee Talks
Coffee Talks are brief presentations on academic resources and topics of interest to the Averett community, followed by questions and discussion. Averett students, faculty, staff and friends are welcome to attend ... and to propose and present new topics!
Join us for learning, dialog and refreshments at the Mary B. Blount Library. Days and times vary. Look for specific times and topics on this page, Library "Hours & Events," and the Averett comprehensive calendar.
We are grateful to Friends of the Averett University Library for supporting this initiative.